We understand that not everything works out the way we want it to. But everything ends well. In that case, you want your money back, and we hope you're happy with your experience.
Filter by Topic
All

Fees and Eligibility

How to return an item?

How do I send back your items?

Where is my refund?

Additional Information
Fees and Eligibility
Please note that for orders placed after September 7, 2022, there is a return shipping fee of $6 per package, which will be deducted from your refund amount.
For all orders that meet the conditions, returns can be made within 30 days of the date you receive all items.
All items must be unworn, in original condition, with original packaging and all tags. Any garment that appears to have been worn, washed or altered in any way will not be eligible for a refund.
How to return an item?
Please login with the email address associated with your order. Go to "Orders" and click on "Refund/Exchange"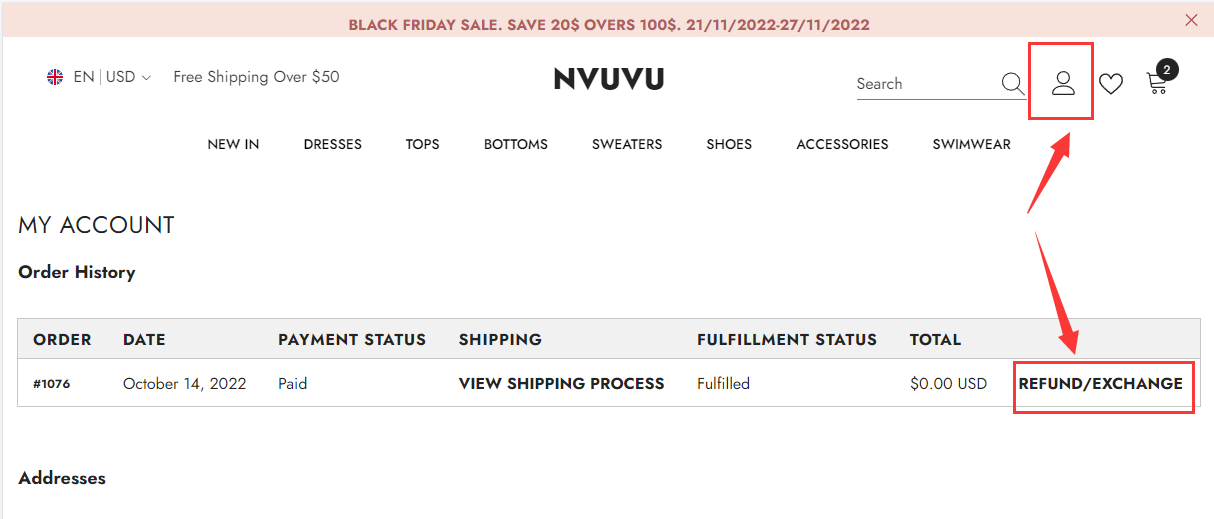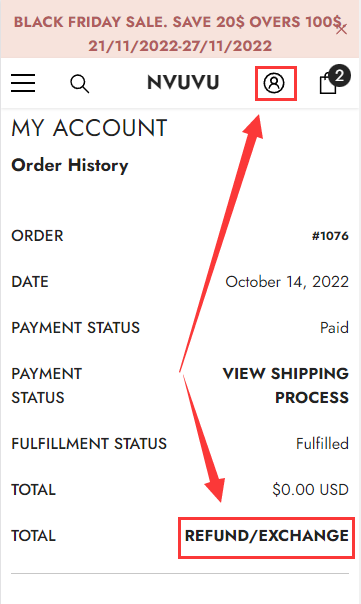 Reach the Refund Inquiry page and enter your order number and email to inquire about your order.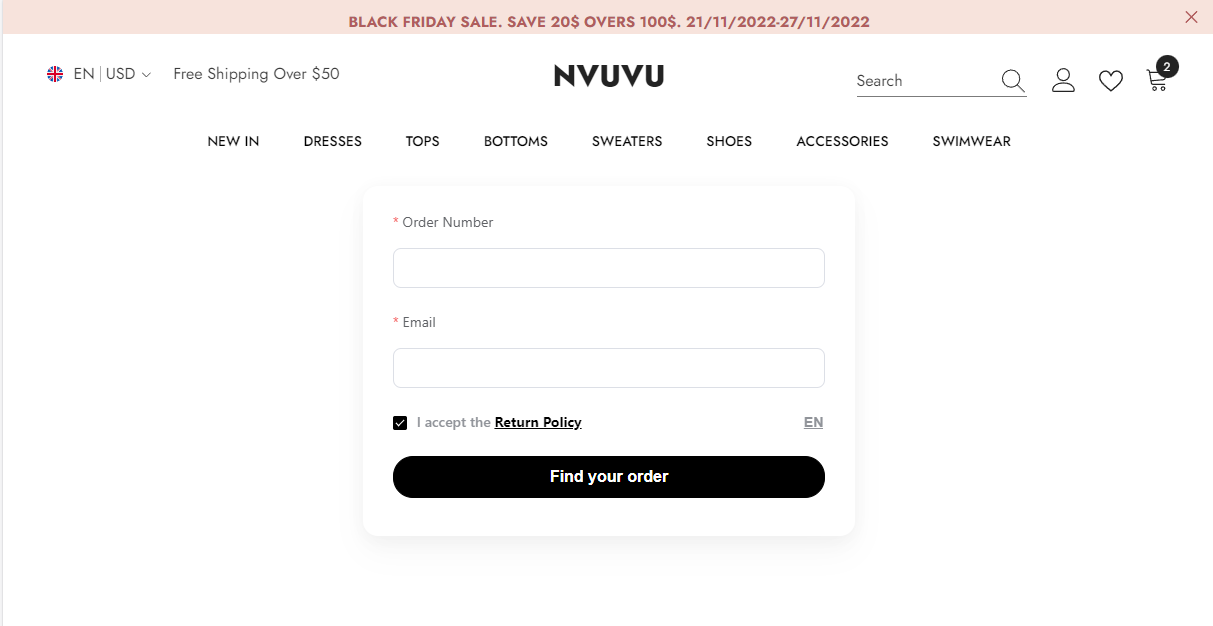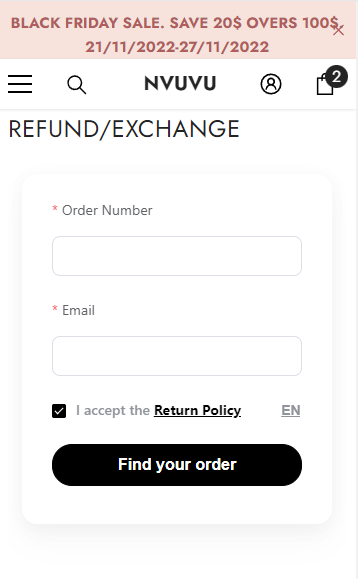 Click on the "Create Return" button to start the refund process.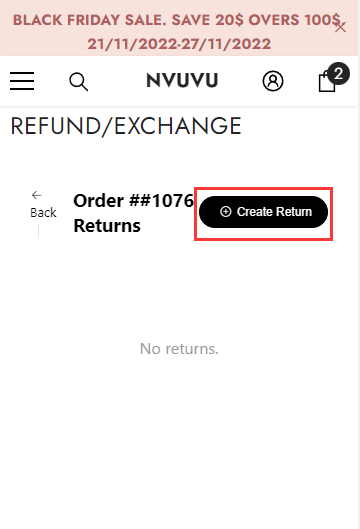 Follow the instructions and submit a refund request.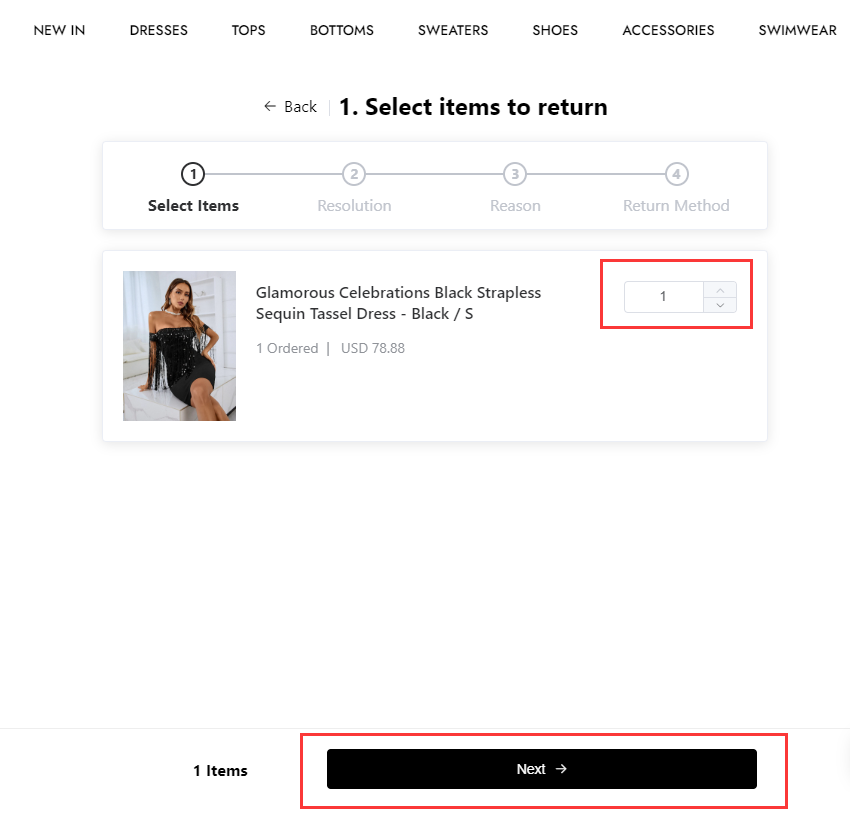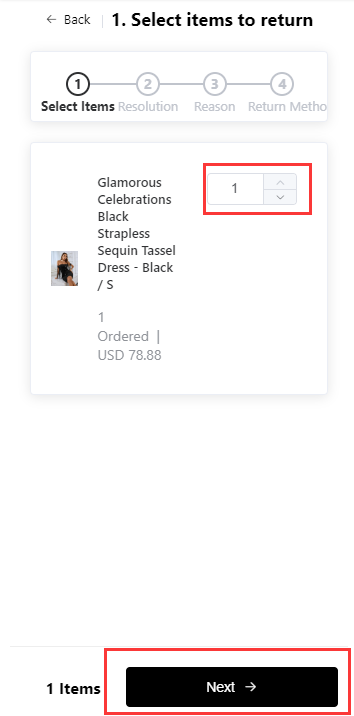 A return confirmation email will be sent to the email address associated with the order. If you do not receive it, please check your spam folder.
You can request a refund/return for multiple items at once to avoid additional return shipping charges.
How do I send back your items?
An email will be sent to you after the order request for refund has been approved. On the email we will indicate the return address and tell you which courier to use to send the package back.
Please remember to send us the tracking information of your package when you send it, otherwise we will not be able to identify which return package is yours.
Don't forget to keep the return receipt from the courier company until your refund is processed.
Wait for the package to arrive at the warehouse. It usually takes 5-35 days, depending on the distance between your location and the return address.
*More details, including the location of the eligible shipping station, or the warehouse address, will be emailed to you after the return process is submitted on our website.
*If an item is returned for a non-quality issue, the return shipping costs must be borne by the customer. Shipping costs will vary depending on the local shipping company the customer chooses to use. We will be responsible for return shipping costs if the product quality is the problem.
*Please return the product within 14 days of receiving the return request approval email.
*Please do not send your return to the sender address on the package. This is not a return address and will affect your return processing. You should mail it to the address on the return instructions we provide, even if you use your own shipping method.
*Be sure to initiate a return request on our website before mailing your return. We do not accept returns without a return request and are not responsible for returning your unauthorized items.
Where is my refund?
Refunds will be initiated as soon as we process your return at our warehouse.
If you paid with a credit or debit card, the refund will be sent to the issuing bank within 7 business days of receiving the return or cancellation request. If in doubt, please contact the issuing bank to find out when the refund will be credited to your account.
If you paid through PayPal or another online payment provider, refunds will be sent to PayPal or your chosen online payment method within 7 business days of receipt of the return or cancellation request. If in doubt as to when a refund will be credited to your account, please contact the online payment provider.
If you paid via a Nvuvu gift card, a refund will be issued to your account.
If your order was purchased through a store credit provided with a previous return, the order does not qualify for a free return.
Additional Information
Clothing is a product that comes into close contact with the body. Based on the principle of responsibility to all customers, we accept product exchanges in only one case (wrong product sent due to our error).
The same operation process as for returns. Please check the operation process carefully in the picture at the top of the page.
Products marked as final sale are not eligible for return or refund. The following categories cannot be returned or exchanged: Swimwear.
Please note that nvuvu.com is not responsible for any failed deliveries due to negligent acts of the customer. Negligent actions include, but are not limited to: sending an email after refusing to ship (return shipping number) and incorrect recipient information (such as order address, contact phone number or recipient name). In such cases, we are unable to issue a refund through your request. If you find that your order information is incorrect, please contact us at refund@nvuvu.com as soon as possible with your order number and correct information.